The best companies have a handle on their daily cash flow.

Any company is non-profit until it stops spending its cash flow.
Take for example an under-ground public parking lot under private property; charging rent by the half hour.
Ideal downtown location, near the political arena, university, trauma hospital, subway and gay community.
The immediate area was being raised to high-rise developments but with limited parking and no visitor parking!?!
Imagine that underground parking garage the length of the block with 2 parking levels and 155 parking spots available to all with a parking permit – just like on the street. Monthly parking was available for those who could afford it.
Motion sensors opened and closed the garage door.  Security cameras watch the premises.  Bright lights illuminate the back lanes keeping it safe for pedestrians. Radio Frequency buttons were situated throughout the property identifying key points of security checks by private security guards.
Money machines collected the parking permit payed with credit card or coin.
 It's all automated with mechtechs maintaining the money machines.  Private security guards issued parking permit violations and escorted undesirables off the property.
The owner collected a very large portion of the daily receipts and laughed all the way to the bank.
 A very small sum for money machine maintenance and private ticketing was placed aside. Three parking audits happened throughout the night; the private ticketer, city parking authority, both enforced through the courts, and the private security guard issued parking warnings after checking with the on-line parking payment app.
 The garage was turn-key and was automated – a cash cow worth  about $30 to 50,000 a month!! The closest competition was on the street at 7 cents per minute.
The private public garage rented space only,  they did not take custody of any vehicle.  The garage was therefore not liable for any damage incurred by towing vehicles off the property by police and tow-truck.
Now what to put above ground on top of the private public parking garage the length of a double hockey arena? Medical offices and commerce complimenting low-rise townhouses?
      What we have here is an example of a nascent, niche or turn-key business.  The businesses surrounding this parking lot were set for partying, near a secure parking garage.  Within a block of the private public parking underground, there were about 15 bars open until 3 am catering to the university and medical crowd, not to mention those after work drinkers.  Because of the private parking lot the community was safer.  Security guards patrolled it 24 hours every day and night.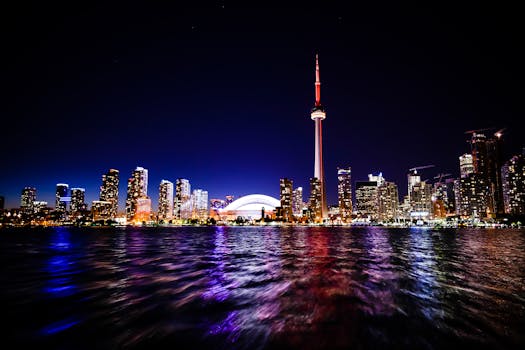 Canada has more lakefront property than any other so  . . .
So, if the lot was near water then maybe a beach house with an awesome deck for kiosk movie prop settings.
Then there's another turn-key business in franchised garages and storage  – 24/7 public access with security fobs, gates and cameras.
How's about a round office condominium tower with movie prop starship bridges. Outrageous!
Then of course, there's digital marketing .
Office and townhouse preferred parking would only limit public parking availability so,  they would be issued monthly passes allowing them to park anywhere.
End User Beware: The banners are redirect points to affiliate programs.  When the end-user decides a purchase from the various affiliate merchants using the hidden hyperlink connection, this could conclude with the web page blog \ journal earning a small commission; to continue research on many topics of discussion.
Thumb Nail Picture Market Place
As far as the media was concerned, and as you are aware, robots, computers and web pages work 24 hours a day,  7 days a week, 365 days a year; after programming.  Get them working to help you potentially bring in another income and you're home free. A web page start-up with technical support, at the basic level, is the next wave in the lazy guy's way to make money. That opportunity is now yours with 2 free web pages for a blog/journal.   Click the picture.
Launched in 1995, eBay.com was a California based multi-billion-dollar business with operations in about 30 countries, including Canada.  According to Wikipedia sources, the company managed an online auction and shopping website in which ordinary, every day people and businesses, bought and sold a wide variety of goods and services worldwide. Click the picture.
Launched in 2010, AliExpress.com quickly became an online retail service. It was made up of small businesses in Hong Kong, now China, and elsewhere offering products to international online buyers.  According to Wikipedia sources, it was owned by Alibaba with affiliation in the USA and Canada. It facilitated small businesses to sell to customers all over the world except mainland China, and one could find almost anything for sale. Sellers were independent, and used it as a host to sell to consumers and other businesses. Click the picture.
Visit this web page for a massive selection of Hellboy, Manga, Star Wars, Superhero comics and other pop culture favorites. This web site says it offers thousands of pop culture products such as apparel, comics, graphic novels, statues, toys and other collectibles. The web site also says they carry a huge variety of popular entertainment products from hundreds of manufacturers including DC Direct, Dark Horse, Disney, Hasbro, McFarlane, Marvel, Master Replicas, Tokyopop. Click the picture.
This calendar web site said they are the world's biggest and best calendar store because they carry thousands of picture desk, wall and engagement calendars, in formats for every interest and occasion. In addition to calendar items, they also have an extensive game, toy, and puzzle collection featuring thousands of products for sale. Click the picture.
Free-eBooks.net was an internet source for free eBook downloads, eBook resources & eBook authors. There were many genres to choose from such as academic, classics, fiction, nonfiction, text books and audio books for adults or children.  Any reader could read & download eBooks for free: anytime! Click the picture.